Free RSS Icons for your blog.
"RSS" (Really Simple Syndication) is used to refer to web feeds in general.RSS is a Web feed format used to publish frequently updated works like blog entries, news headlines, audio, and video—in a standardized format.Many news-related sites, weblogs and other online publishers syndicate their content as an RSS Feed to whoever wants it.RSS allows you to easily stay informed by retrieving the latest content from the sites you are interested in.You save time by not needing to visit each site individually by subscribing it.
So a RSS button is necessary those who are interested to attract more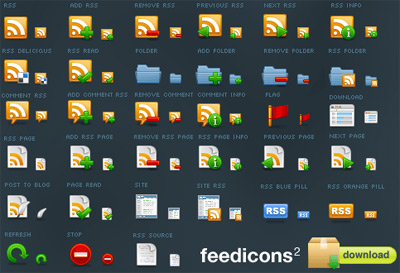 visitors to your site/blog.In hongkiat, showcases of free RSS icons you can use for your weblog,if you are still using the typical RSS icon on your site, it's probably time to change.
Bittbox offers Free Glass Style RSS/Feed Icons.The download has 8 colors in various sizes and formats. I also included the entire set with a reflection, in all file sizes and formats.
Smashingmagazine provides some high quality,nicelooking RSS Icon sets.The Icon set contains 8 icons which you can use for private and commercial projects, blogs and web-sites for free. The icons are available for both Mac and Win-users in resolutions 16×16px, 24×24px, 32×32px, 48×48px, 128×128px, 256×256px and 512×512px.
You can design your own RSS feed icon if you wish,but there are hundreds of beautiful RSS icons around the net which are free to download.Bloggingtips arranged a large list of sites which offers Free RSS Icons.You can visit the site and can download the rss icons for free.